Best SaaS Marketing Agencies [Juicy Case Studies Only]
SaaS is one of the finest business models out there.
It's really simple. Customers subscribe to your software and they keep paying you for it every month.
All you have to do is keep track of your MRR and ARR while laying on a beach in Thailand.
After all, the SaaS industry is expected to generate nearly $105 billion in 2020.
Sounds like a bulletproof business model, right?
Oh boy. If only it was that easy.
Did you know that most SaaS businesses struggle with getting more than 50 paid subscribers even after two years of entering the market?
Are you aware that million dollar investments won't help unless you know what you're doing?
Do you realize that developing the product is only the first step of the way?
If you're getting into the SaaS industry, I hope you do realize that this is the reality.
Fortunately, there are people who can turn this into your advantage.
Working in SaaS demands a different marketing approach, so make sure you choose the partner that can show you a few case studies to back up their expertise.
Our criteria:
SaaS specific experience

Proven SaaS case studies

Impressive results in SaaS industry
And if you are looking for the SaaS marketing agencies, you'll find the best of them below.
The ones that made it to the list are focused on helping SaaS businesses, in particular.
#1 Content Distribution
Self-promotion is ugly. Self-promotion backed up with facts is awesome.
Here's why we've put ourselves on top of the list.
We took DoNotPay from 0 to 479,000 monthly organic visits in less than 17 months.

If you were to pay for all that traffic—which is what most new SaaS businesses do—you'd need to pay a lot.
Average cost per click on Google Ads was $2.69 in 2020. And it's only going up.
Getting 382,000 visits this way would cost you $1,027,580.
Every single month.
Our fees are way lower than that.
If this was the only case study we had to back up our SaaS marketing expertise, we'd be guilty of that ugly self-promotion.
Luckily, we have a few more.
0 to 47,000 organics/month in 13 months for AnyLeads.com

0 to 103,000 organics/month in 13 months for LogicInbound.com

0 to 116,000 organics/month in 13 months for Doggypedia.org

0 to 166,000 organics/month in 13 months for CampusReel.org
Finally, we're also a SaaS business ourselves.
In 2020, we launched a keyword grouping tool, ClusterAi.
Guess who's doing the marketing? That's right—we are.
With a free trial landing page converting at 44%, it seems like we're doing a good job.
One of the best things about working on our SaaS tool are the insights.
We can test everything we want internally and once we get rock solid results, we implement them on our clients' SaaS businesses.
If you want to know more about how we helped SaaS businesses with marketing, you can read the full case study here.
#2 Apollo Digital
These guys are crushing it.
With one of the finest SEO case studies in the SaaS marketing world, they had to make it to this list.
Apollo Digital took this SaaS business process management software from 8,000 to 194,865 monthly organic visits in two years!

Check out their full SEO case study here.
The whole project was done without any link building efforts. Their main focus was creating high quality content. 
#3 Flying Cat Marketing
Another agency that focuses on creating amazing content made it to the list.
Content is king, after all.
And if content is king, Flying Cat Marketing is the queen.
Remember, we're only looking for the best SaaS marketing agencies, and the best way to find one is to follow the scent of juicy case studies.
Led by Maeva Cifuentes, Flying Cat Marketing keeps piling up great case studies.
Their best case study comes from working with a vacation rental SaaS, Host Tools.
Flying Cat Marketing managed to double their traffic and increase the conversions to paid by 46%.
They really prove that content is the way to go.
#4 Kings Point
All that content is king talk led to this point. King's point. Get it?
If you're looking for results, you've come to the right place.
Steven Macdonald of Kings Point is a no BS guy that consistently gets crazy results for SaaS businesses.
Whether it's through SEO, content marketing, or conversion rate optimization, King's Point makes sure SaaS businesses they work with achieve their goals.
They recently grew monthly organic traffic from 25,000 to 54,000 within 10 months for their SaaS client.
#5 Refine Labs
You must have heard of Chris Walker and his Refine Labs team.
That is one of the best SaaS marketing agencies that truly refined demand generation marketing and that is consistently getting amazing results for their clients.
What is the best thing about them?
They share everything they know in their Demand Gen Live podcast.
What about case studies?
Here's where it gets interesting.
These folks go beyond SaaS.
They even help HwaaS businesses. 
HwaaS? Hardware as a service.
That's right. They've helped Eversound increase their website traffic by 1,500% and the number of their qualified opportunities by 137%.
By improving their general revenue efficiency, they also helped Eversound raise $5MM Series A financing.
#6 Funky Marketing
Too few SaaS marketing agencies understand demand generation.
Funky Marketing is one of them.
They recently ran a highly successful campaign that highlights their abilities.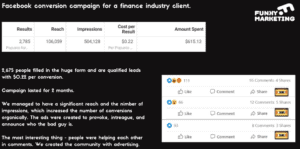 If you ever ran Facebook Ads, you know that cost per result of $0.22 is nearly impossible to get.
It turns out, that's exactly what they did. Plus, it was a conversion campaign, so forget about meaningless views and unqualified leads.
These guys know what they're doing. Creating a community with advertising, that's what they call it.
#7 Full Funnel

Less leads. More revenue.
Full Funnel SaaS marketing agency lives by this rule.
Instead of focusing on getting leads, they focus on getting you tangible results.
Does a 50% MRR growth sound tangible enough? That's exactly what they were able to achieve for one of the clients, Opsfleet.
Impressive, huh?
How Do You Pick the Best SaaS Marketing Agency?
Way too often, businesses pay marketing agencies for the process and not the results.
As a SaaS business owner, your main goals are increasing MRR and ARR.
You need to find an agency that can deliver on these goals.
Here's what you need to check first. First, you need to check if they have:
SaaS specific experience

Experience in your niche

A proven track record
Then you'll need to get even more specific. Check whether they are able to:
Get results consistently

Adjust their strategy to your business needs

Create a detailed roadmap towards your goals

How To Measure SaaS Marketing Agency Effectiveness
Marketing should be tied to revenue. That's what the best SaaS marketing agencies get measured on.
Here's how you can estimate your marketing ROI.
Right now, your simplest funnel may look like this:
User visits your website

They sign up for a free trial

They convert into paid subscribers
Let's say your monthly SaaS subscription is $9.99.
Your website is getting 10,000 visitors each month.
10% of them convert into free trial users.
20% of free trial users convert into paid subscribers.
Now let's do the math.
10,000 x 0.1 (10%) x 0.2 (20%) = 200 paid subscribers
MRR = 200 x $9.99 = $1,998
It's time for your marketing agency to jump in.
What if they increase your monthly website traffic from 10,000 to 200,000?
A 20x traffic increase can lead to a similar MRR increase ($39,960 MRR).
What if they also increase your visit-to-free-trial conversion rate from 10% to 20%?
Increasing visit-to-free trial conversion rate by 200% can lead to similar MRR increase ($79,920 MRR).

Finally, what if they manage to increase trial-to-paid conversions as well? 
What if you go from 20% to 30%?
1.5x increase in trial-to-paid conversions can lead to 1.5x MRR increase ($119,880).
NOTE: These are only estimates. E.g., when traffic increases, conversion rates tend to drop. Observing both metrics separately and as a part of a system is essential.
Just like that, you went from MRR of $1,998 to generating $119,880 each month.
Your product is still the same. So what happened?
Well, marketing did its job.
Having done the math, let me ask you this…
Is it worth investing $10,000–$50,000 in a marketing agency that knows how to deal with SaaS businesses?
If you're still not sure about the answer or this example looks unrealistic… (well because it is)
…we'll remind you that we took DoNotPay from 0 to 479,000 monthly visits.
Imagine the ROI on that.