B2B SaaS SEO For BrandChamp
BrandChamp.io is a B2B SaaS that helps e-commerce brands scale their influencer, affiliate, and ambassador programs to thousands of participants.
Their product is critical for brands looking to scale past spreadsheets and a couple of dozen influencers.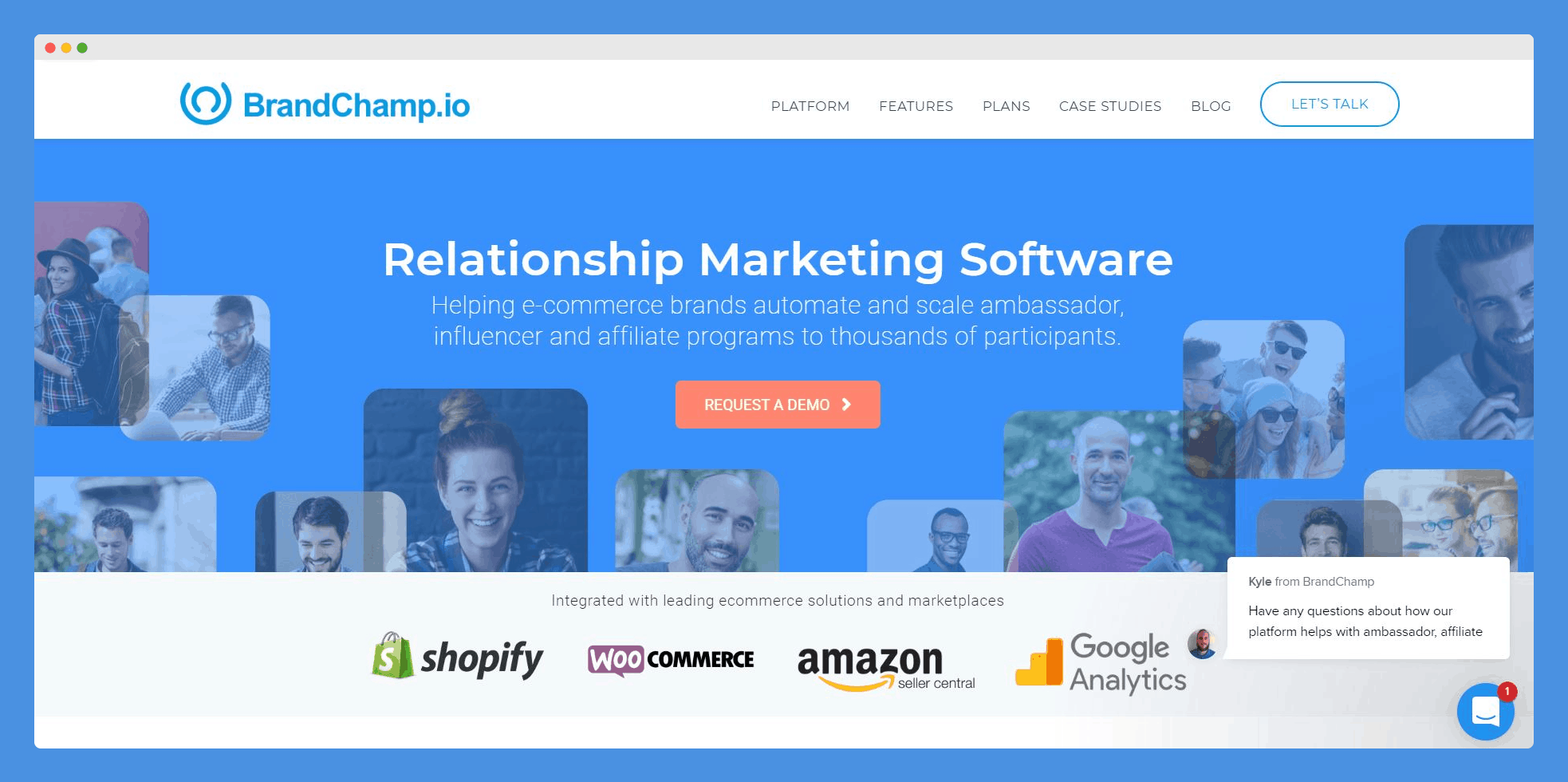 BrandChamp has a seriously impressive offering that their customers love, but until we began working together, no one else had heard about them.
When their target audience was evaluating options, BrandChamp wasn't under consideration.
Because up until we started working together, their only acquisition strategy was cold email outreach.
BrandChamp had a serious awareness problem.
The challenge
BrandChamp is self-funded and bootstrapped.
They didn't have a big marketing budget, or really, any marketing budget at all.
Their founders didn't take a paycheck so that they could instead fund their organic search investment.
Fortunately, BrandChamp chose contentdistribution.com.
The Results
contentdistribution.com helped BrandChamp rank above, and out-compete their well-funded, and much bigger competitors.
Their competitors have more money, more domain authority, and more backlinks.
And we ranked BrandChamp above them.
We brought BrandChamp SQLs from some huge names in e-commerce.
Like really huge.
And we did it without building backlinks or spending time on complicated technical activities.
Everything you know about SEO is a lie. Learn how Google really works (based on 65,000 1st page keywords).
Seriously, everything you know about SEO is a lie.
Our projects currently have over 65,000 first-page keywords, and we don't build backlinks or get into complicated technical activities.
Do yourself a favor and read the blog post linked above.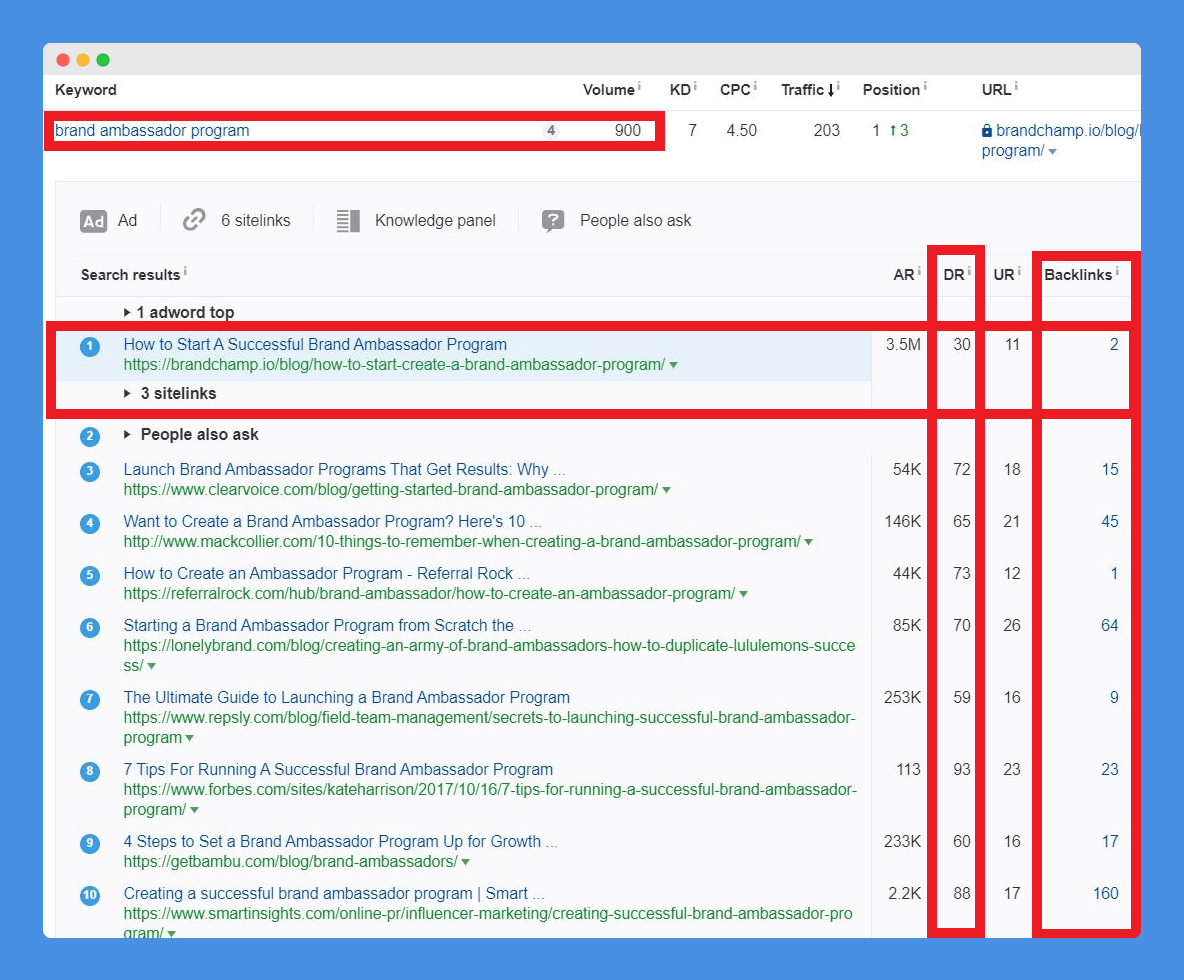 There is a lot going on in the screenshot above.
It's a screenshot from Ahrefs.com, the #1 tool for SEOs.
And what you're looking at is the first page of search results for 'Brand Ambassador Program.'
One of the most valuable keywords for which BrandChamp could rank.
There are only two places on which you need to focus.
The 'DR' column.
And the 'backlinks column.'
DR or Domain Rating is a proprietary score Ahrefs has created to evaluate how strong, or authoritative, a domain is.
The higher the DR, the more authoritative the domain.
The more authoritative a domain is, the easier it ranks.
YouTube, Twitter, and Facebook have a DR of 100.
The website you created yesterday has 0.
And backlinks is pretty self-explanatory, it's the number of backlinks pointing to a page.
Notice how BrandChamp ranks above its competitors which have a higher Domain Rating and more backlinks?
That's not a fluke.
We did it again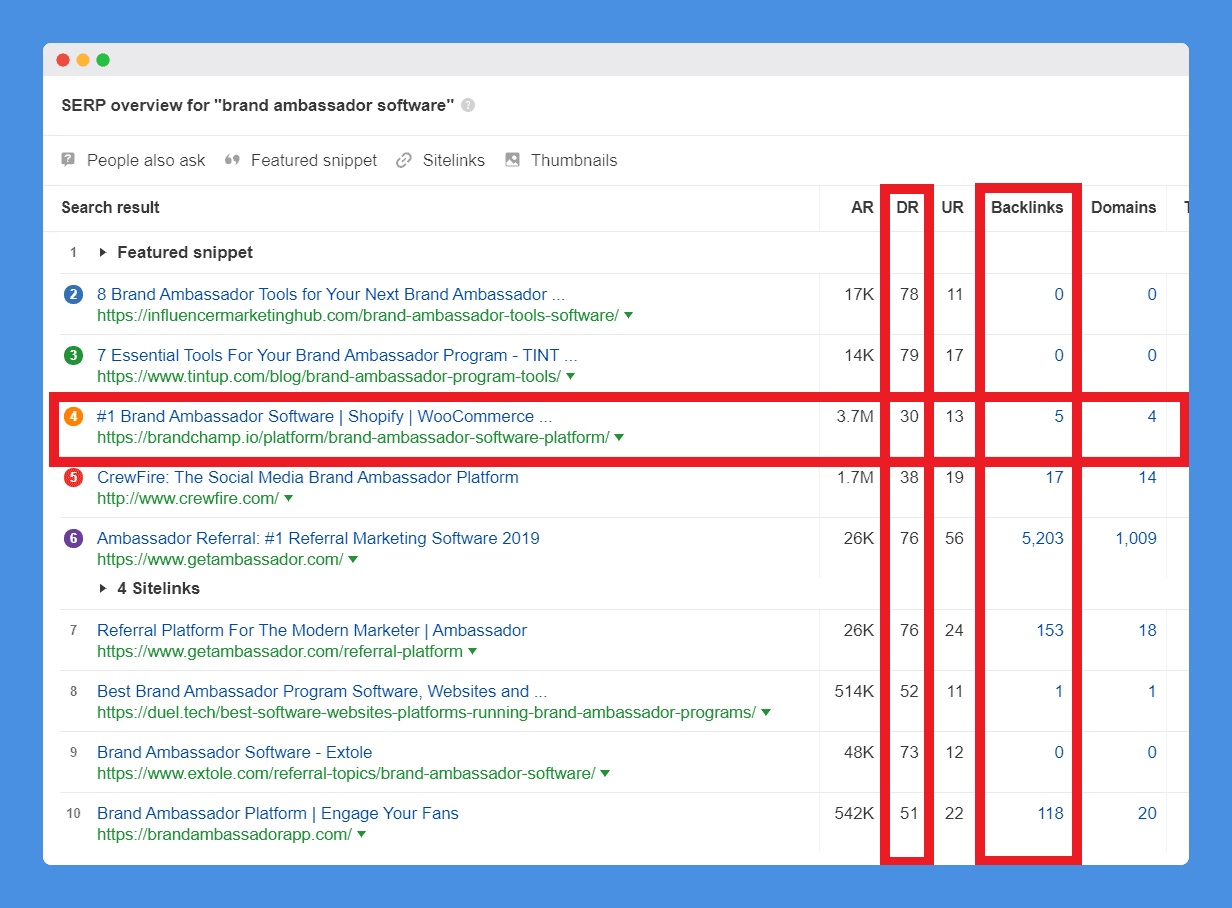 And again
And again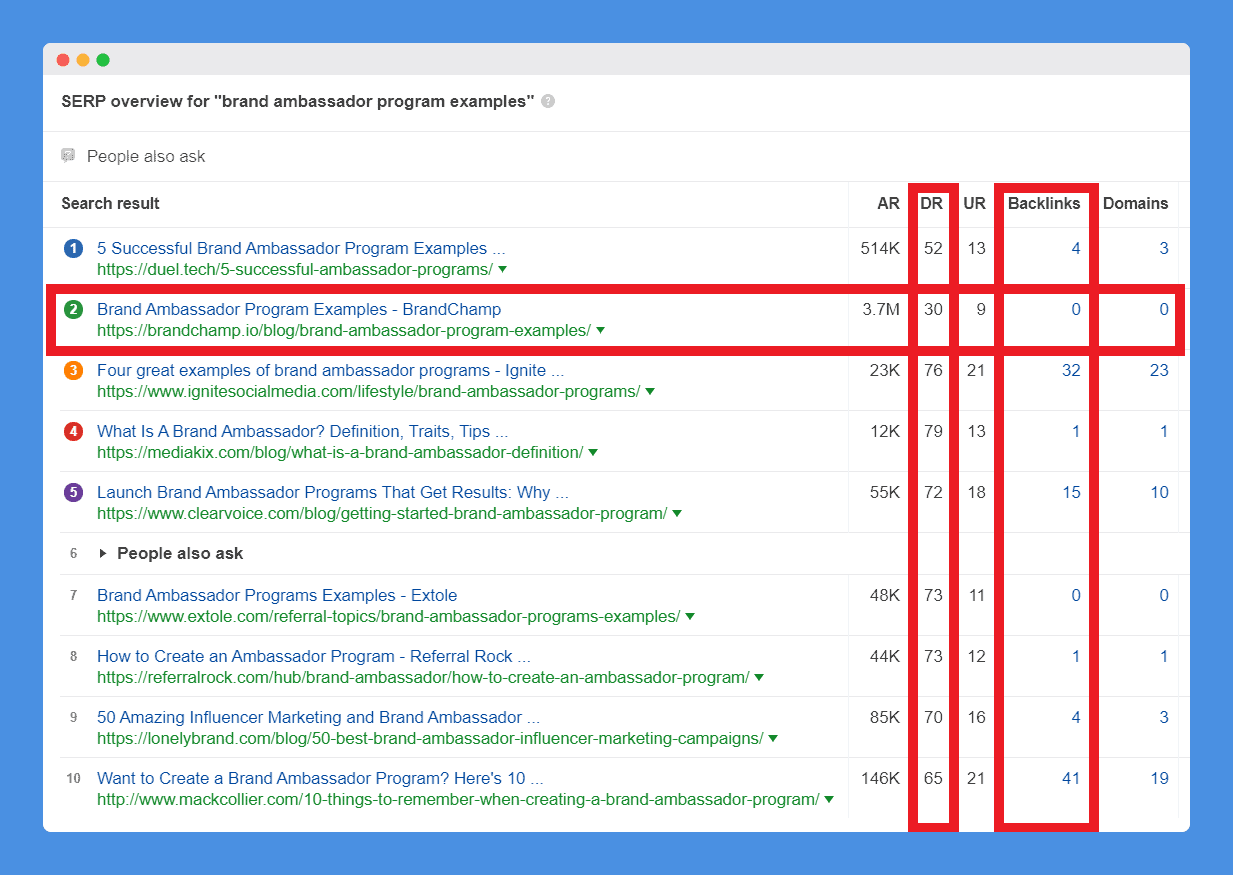 And again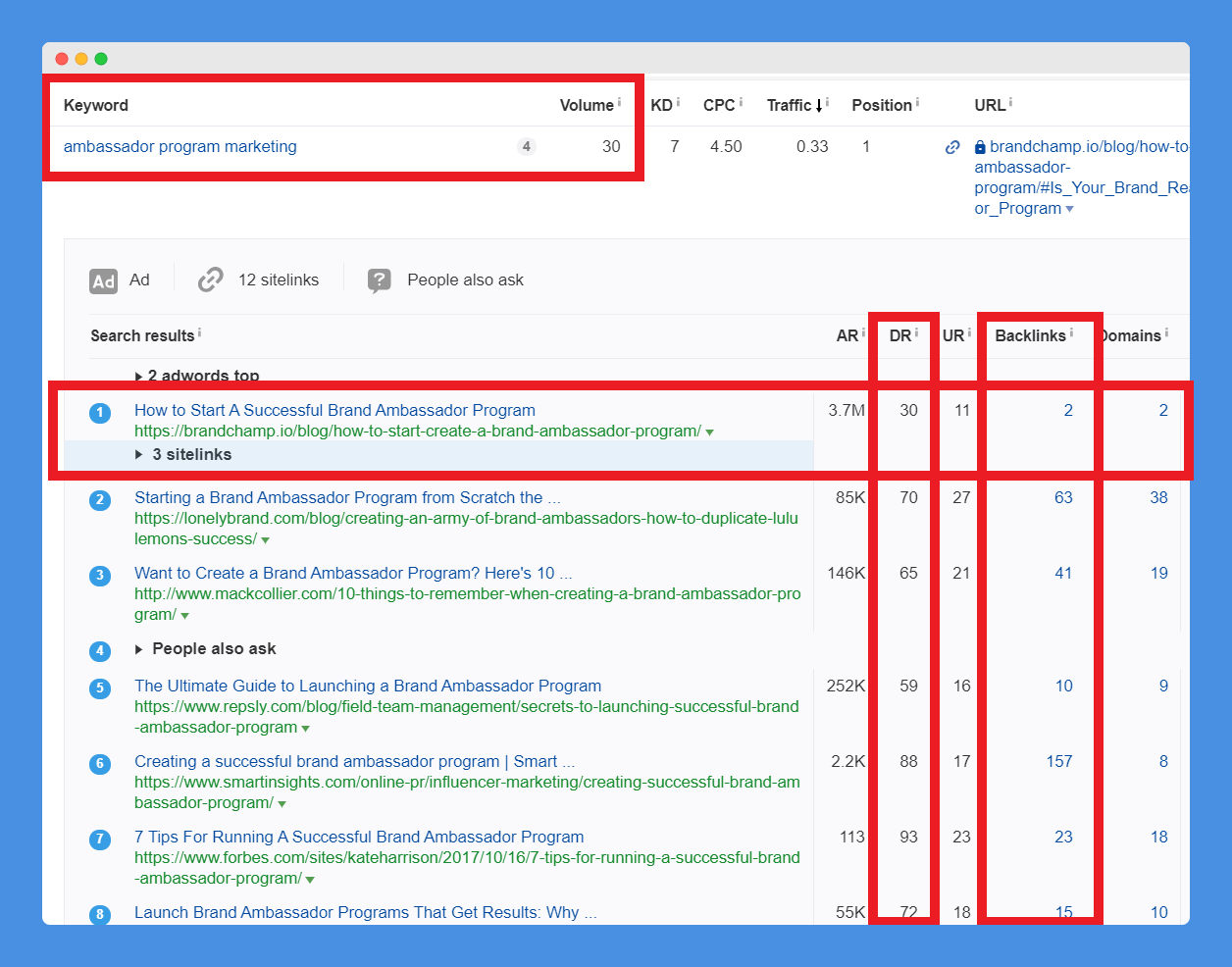 And again
Without building backlinks or getting into complicated technical activities.
Learn why BrandChamp outranks competitors with more money, more domain authority, and more backlinks.
But it doesn't stop there.
We leveraged our organic search traffic to drive traction across other acquisition channels.
The next set of terms are a mix between consumers looking to rep a brand, and brands looking for ambassadors.
Check out the rankings.
Then learn how we funnel the different audiences down different paths in a way that allows BrandChamp to generate massive amounts of value.
Supplement brand ambassador
Fitness brand ambassador
Clothing brand ambassador
Only about five to ten percent of this traffic is businesses:
Looking for brand ambassadors
Doing competitive due diligence on how brands like them are leveraging brand ambassadors
And the very first thing they see when clicking onto any of these pages is a message speaking directly to them, linking them to:
An amazing case study of a brand just like them generating significant amounts of revenue using BrandChamp
A product landing page about the platform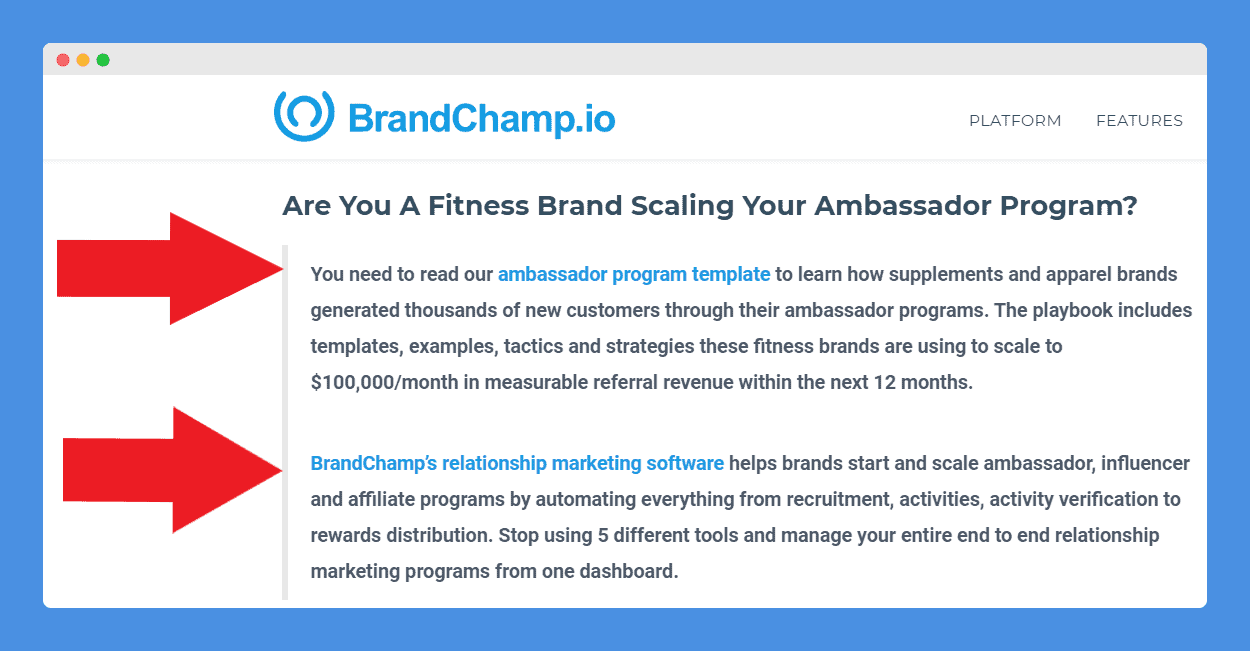 Monetizing B2C traffic
Only five to ten percent of the traffic hitting these clothing, fitness, and supplement-brand-ambassador blog posts are businesses.
The tactic we used to create value from the consumer audience going to these blog posts is pretty clever.
Marketers love Facebook groups.
There are tons of Facebook Groups dedicated to connecting e-commerce brands to influencers and ambassadors.
A lot of these groups are owned by companies like BrandChamp, selling to e-commerce brands. Usually, they sell to some kind of influencer SaaS or influencer marketing agencies.
These groups attract a lot of e-commerce brands seeking influencers to promote their products.
Here is how the workflow looks:
E-commerce brands search Facebook for Groups they can use to recruit influencers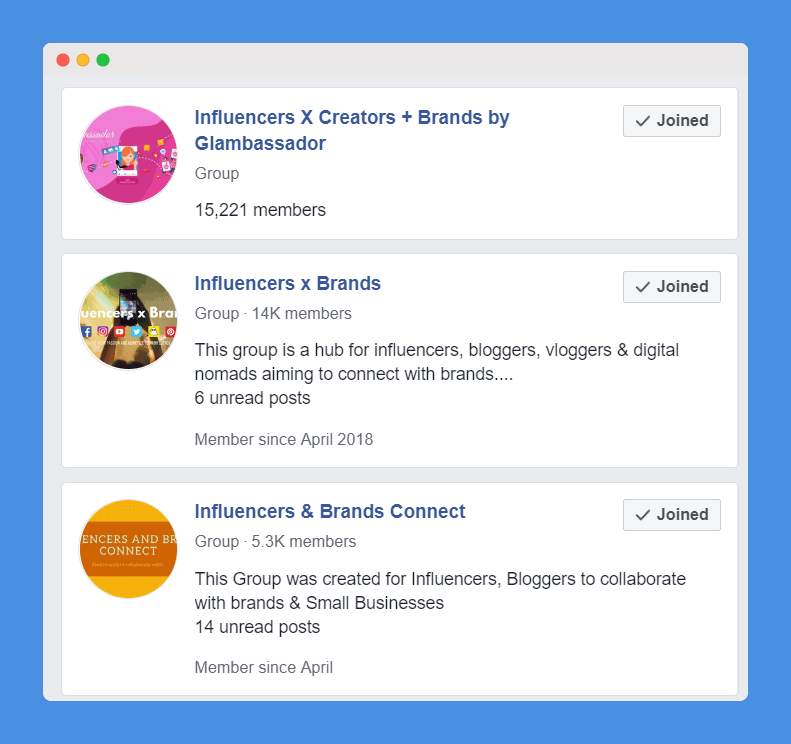 Brands join as many groups as they can find and post a request in the groups with an offer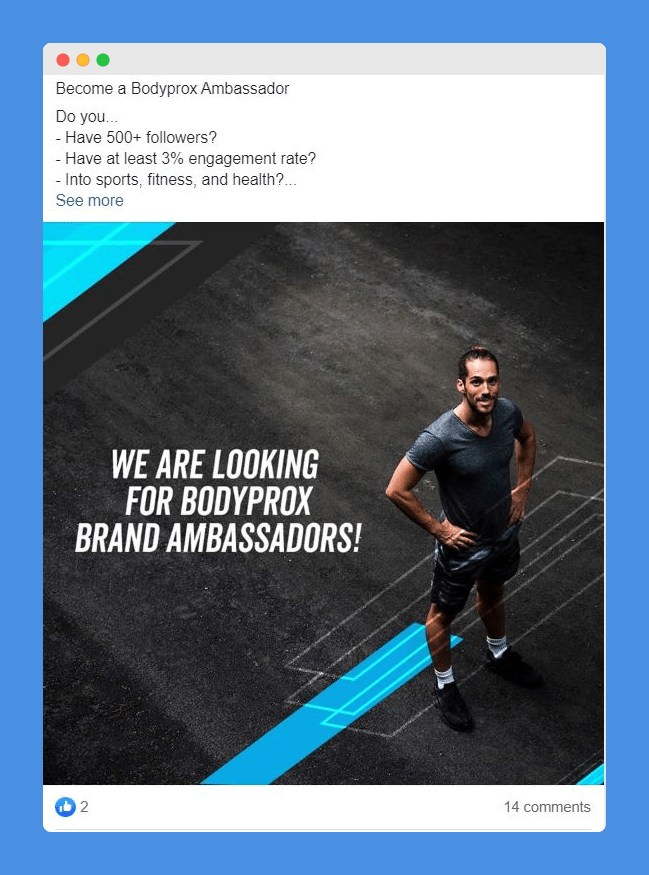 The companies that own these groups message the e-commerce brand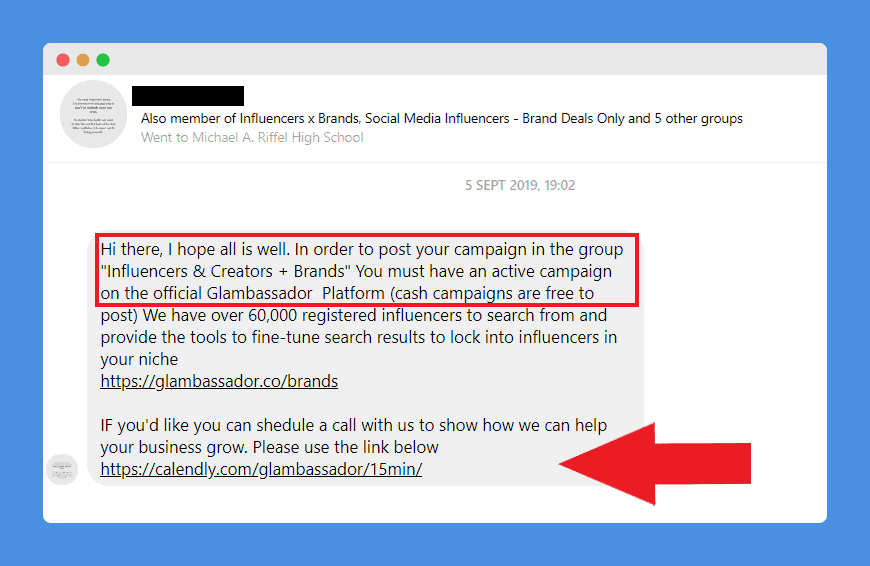 So, for example, immediately after we speak to the e-commerce brands that hit BrandChamp's 'supplement fitness ambassador' blog post, we speak to the consumer audience that is looking for brands to promote.
And we funnel this traffic to a Facebook Group owned by BrandChamp.
Check out the results: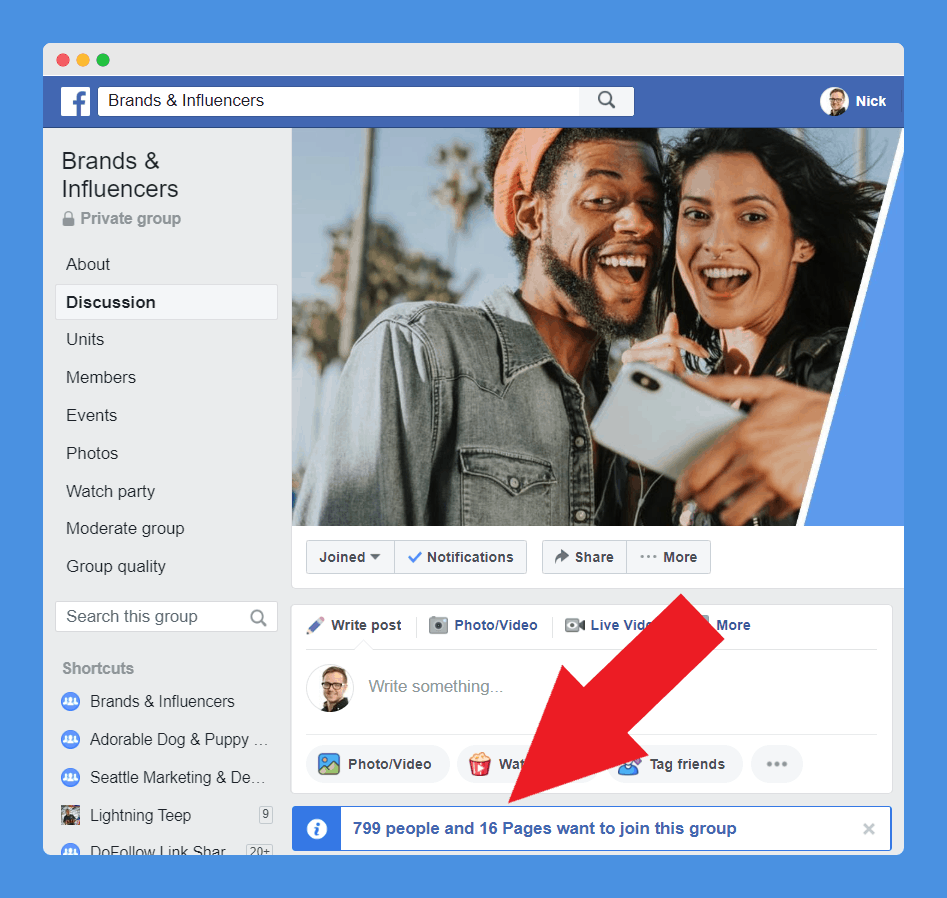 Learn why BrandChamp ranks above competitors with higher domain authority and more backlinks.
Working together on B2B SaaS SEO
Want to crush Google and appear everywhere your target audience is searching?
We help ambitious brands crush Google. Think of us as an outsourced content manager responsible for everything from A to Z, from keyword research to recruiting a team of writers, to editing and optimizing their deliverables, to publishing.
Rather do it yourself?
Get the same content distribution engine we use to publish over 70 pages of content per month that naturally rank well in Google. That includes our Airtable setup, Zaps to automate tedious tasks, and over 45 process docs to delegate every step of the process to the right people.
Have a question? We have answers. Join our Facebook Group and learn with us.