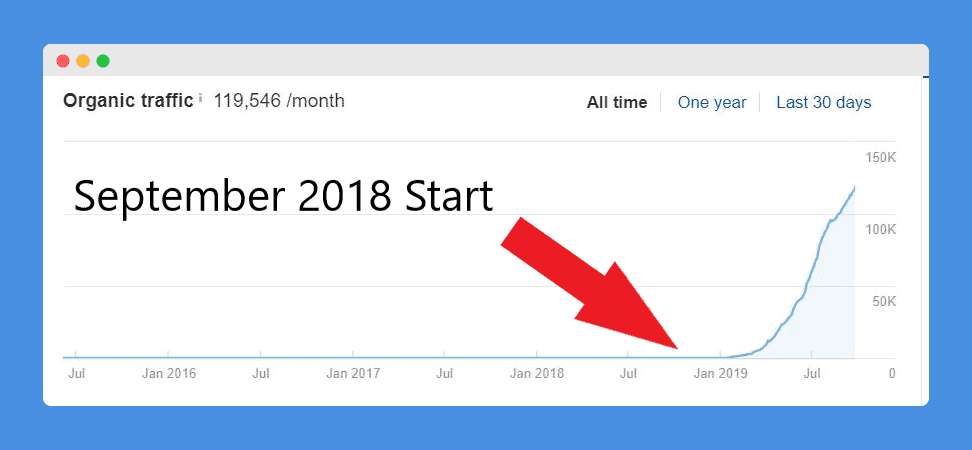 Turning Any Writer Into an SEO Content Writer

How Any Writer Can Write SEO Content
Content Distribution works with dozens of freelance content writers to help us publish over 70 unique pieces of content per month.
Our clients seek to work with us specifically because of our skillset in generating audiences through organic search.
But we hire our writers because they're good writers, not because they know anything about SEO.
In fact, when most writers say they they know SEO, what they really mean is they've read some stuff and watched some videos.
What they never mean is, they have a consistent process to ensure the content they write ranks again, and again and again.
And when we look at their portfolio, none of their work is generating traffic from search.
But that's OK.
So how do we take great writers and consistently enable them to create content that ranks again and again and again?
The same way we're able to manage 70+ blog posts per month.
Processes, documentation, and systems.
If you don't want to see
Proof that all you need to rank is great content, not backlinks or technical SEO
Awesome Facebook groups to recruit great writers from
How much you need to pay
How to keep your writers happy and productive
And you just want the process document, get it in our Facebook Group
What is SEO content writing?
We believe that Google's #1 goal is to show the most relevant, highest quality content for any given search query – every time.
Why do we believe that's Google's #1 goal?
Alphabet generates 95% of their revenue from Google Adwords
Google Adwords generates $120 billion dollars a year
A 1% loss in market share represents over a billion dollars in high margin revenue.
In order to maintain their brand as the #1 search engine, they need to provide better search results than everyone else
We didn't just make up this philosophy to organic search distribution.
We've published hundreds of pages of content across the projects we've worked on, and have over 45,000 1st page keywords.
Not everything ranks, and not everything ranks fast, but when we publish large amounts of highly relevant, high quality content, it hasn't not worked yet.
High Quality Content
Google isn't an AI, and it can't intuitively understand the difference between content quality like we can.
Instead, Google relies on heuristics.
And we believe the strongest heuristic of content quality is user engagement metrics, and how they compare to other sites Google could show for a given keyword.
Bounce rate
Time on site
Pages visited
Overall site engagement (button clicks, CTAs, etc)
If you closely monitor your rankings, it's common to see your page pop on and off the first page before ultimately settling somewhere.
This is Google testing, and stack ranking your page based off user engagement metrics.
And through trillions of searches, Google has developed a pretty good idea of the characteristics of high quality content.
Think about it this way.
If we showed you two pieces of content about a topic you don't know anything about.
Say, quantum physics, or quantum computing.
And the first piece is 1,000 words in one giant paragraph.
And the second piece of content is 3,000 words and has:
A table of contents
Bullet Points
Lists
Tables
Imbedded YouTube videos
Pictures
Bolds important sentences
Internal links to relevant content
External links to authoritative websites
Even if you didn't understand the topic, which would you assume is a better piece of content?
The content with a ton of structured data.
So when Google crawls your site.
And it finds a ton of structured data like lists, tables, and bullet points.
It assumes the quality of your content is high.
And tests you on the first page quicker than it would without these characteristics of high quality content.
Relevance
Being relevant to a given search is just as important as having high quality content.
Great content is written every day that will never rank and generate eyeballs.
Because Google doesn't believe it's relevant to a given keyword.
You only have so much real estate to drive relevance.
URL
Meta title
Meta description
H1
H2s
H3s
Internal links
Being relevant doesn't mean using the same keyword again, and again, and again across your available real estate.
It means using variations of the keyword you want to rank for.
In this article, my core keyword is 'seo content writer'
But I've also optimized the content for variations of this core keyword:
SEO content writing
SEO content writers
Writing SEO content
Writing web content for SEO
But you have to be careful when you pick the variations, because if you pick the wrong variations, you might not rank for anything.
It's really not intuitive, and today doing keyword research is more of an art than a science.
If you write a post about 'the best LinkedIn headlines & profiles'
Your post won't rank for either 'LinkedIn headlines' or 'LinkedIn profiles'
Go ahead and Google each term.
The pages ranking on the first page are optimized for just one of those keywords.
Linkedin profiles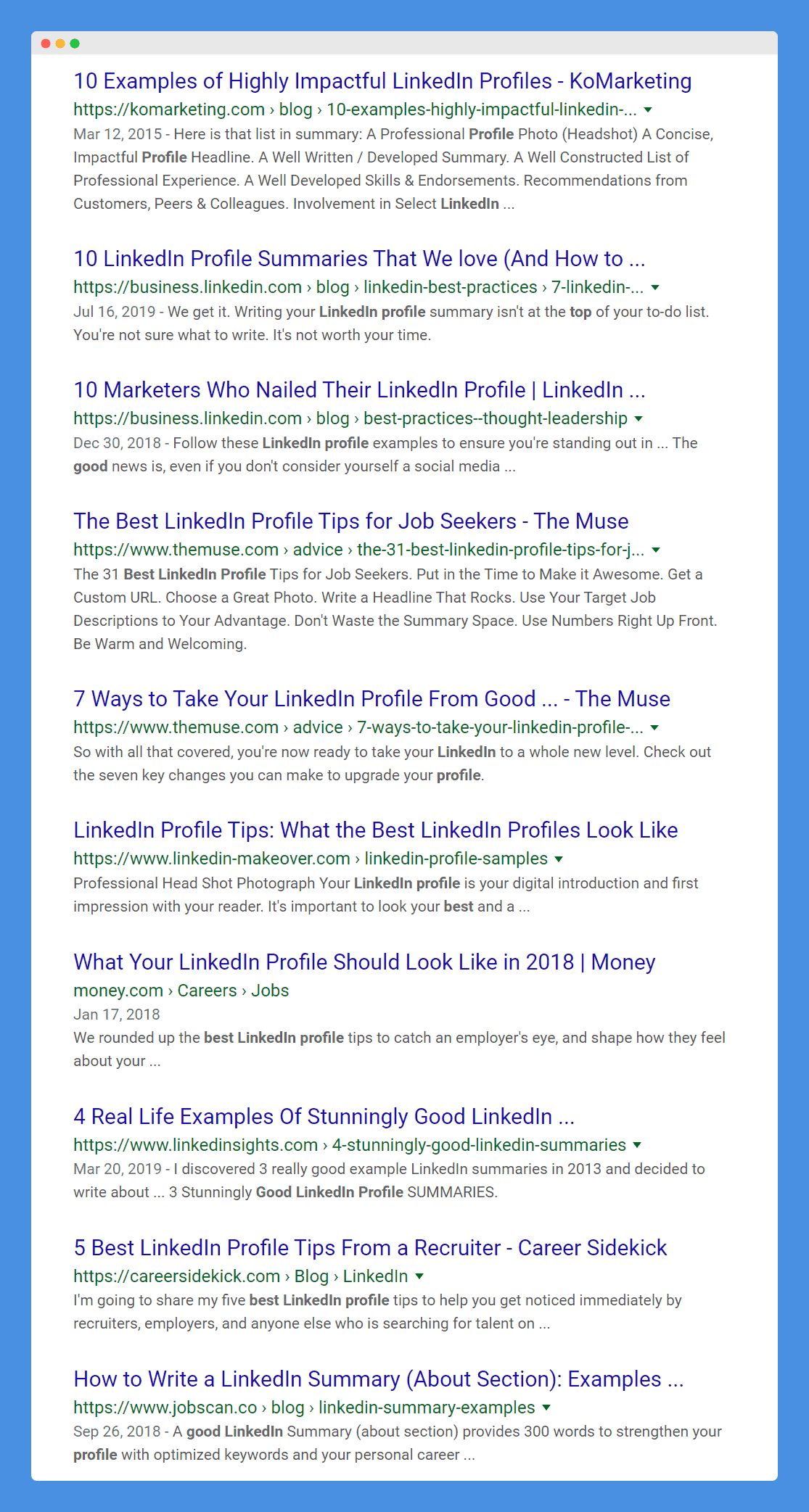 Linkedin headlines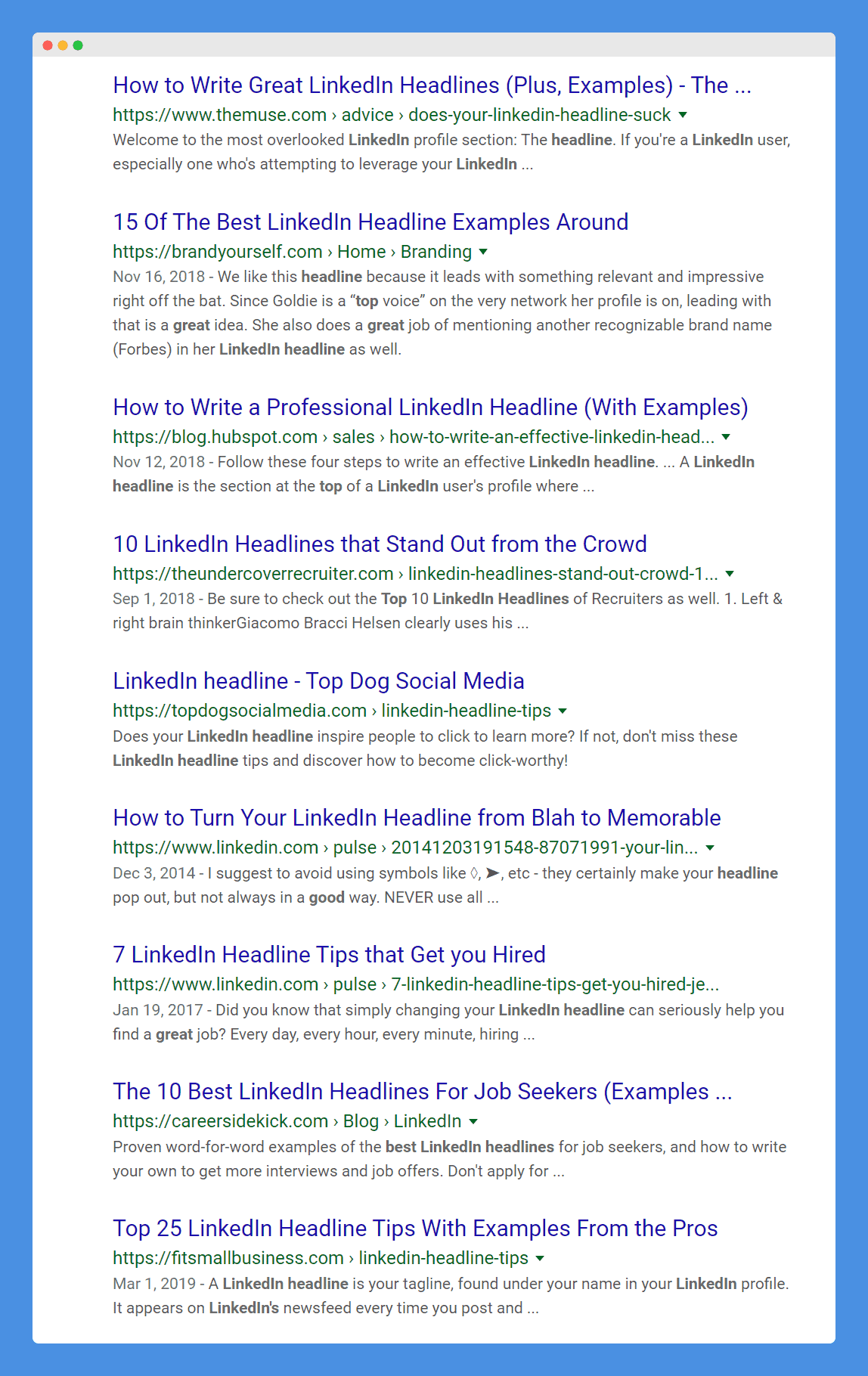 And they use the:
URL
Meta title
Meta description
H1s
H2s
H3s
To drive the relevance for one keyword, or the other.
Not both.
Being relevant at scale
Today people choose their keyword research using a 'gut feeling'.
Over 20 SEO's replied to this post and gave their opinion.
And not a single SEO used data to decide.
They all gave advice 'from the gut'.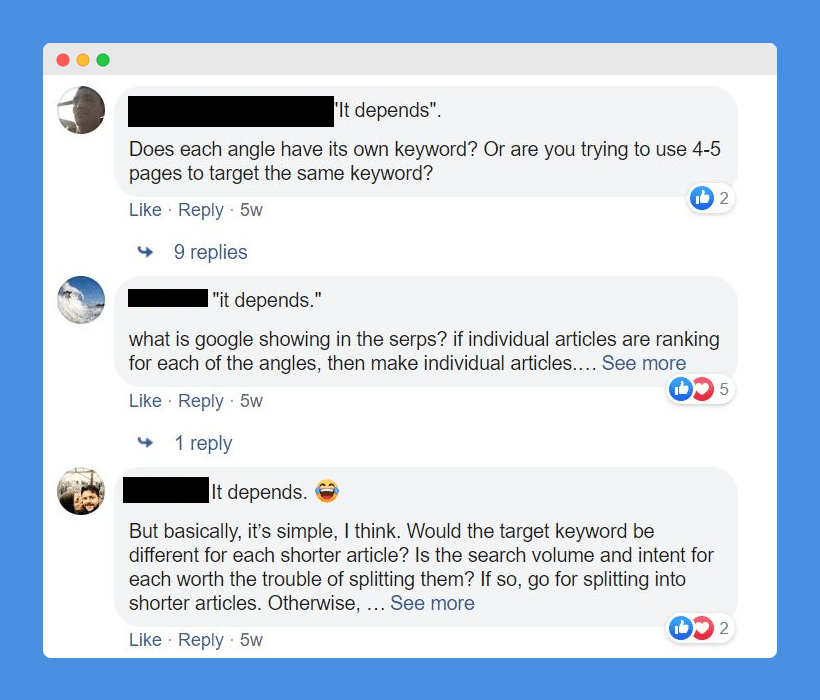 It takes a lot of time to figure this out.
And it's more of an art than a science.
We've turned the keyword research process from an uncertain art that takes a significant amount of time for every piece of content you produce.
Into a science.
Allowing us to generate a year long content calendar, in less than an hour.
Based on data, not the gut.
How it works:
Import as many as 10,000 relevant keywords to your business
The tool crawls Google
And figures out which keywords can rank together
Then groups the keywords that can rank together into discrete content topics
With the exact variations to use in each piece
Here's what that looks like: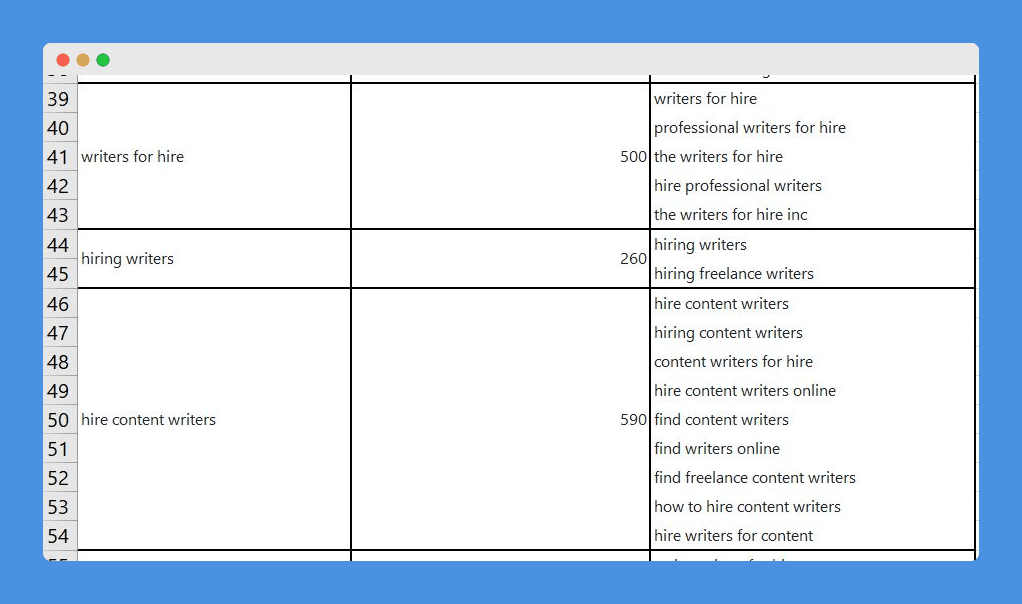 Notice how 'hiring writers' and 'hire content writers'?
Look at the variations, I see one keyword that doesn't include 'content' in the 'hire content writers' keyword group.
Google both keywords and you'll see each of the different search results contain different pages optimized for one keyword or the other.
Comparing each keyword against other keywords to get this right is tedious to the point where it's simply not done.
So people guess.
And when they screw up, they don't rank for either keyword.
When more relevant, higher quality content isn't enough, and why you should do it anyway
Content may not be enough if you're operating in:
Gambling
Finance
Dating
Healthcare
Cancer lawsuits
But for most businesses, and most industries, content is enough.
This isn't to say that backlinks don't help, they do.
Lack of backlinks has never stopped us from ranking well before, but a lot of backlinks makes our job easier.
And when backlinks are necessary, highly relevant, high quality content needs less backlinks to rank than less relevant, lower quality content.
Below you'll find a bunch of examples of the impact of creating more relevant, higher quality content than the competition.
In every example you'll note our page has less domain strength, and less backlinks to the page ranking.
Examples:
Web content
E-commerce content
B2B SaaS content
Mobile Apps content
Writing web content for SEO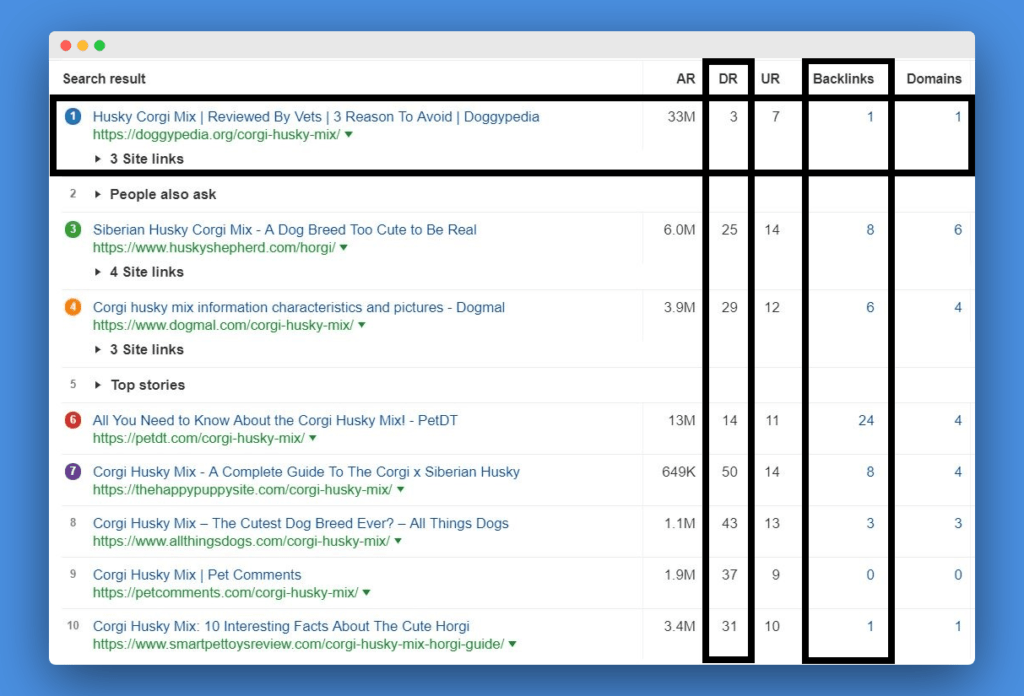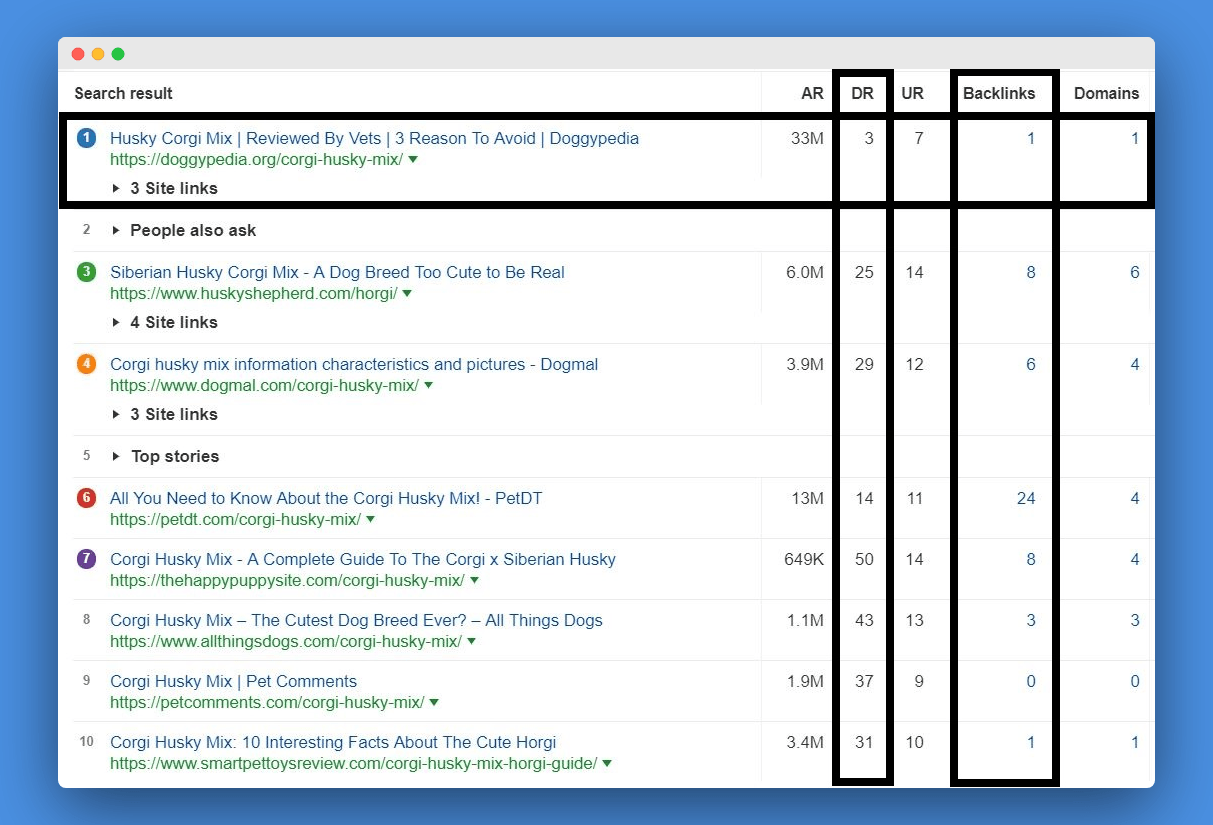 Doggypedia is America's favorite website to learn about different mixed breed dogs, with over 200 unique articles.
This keyword represents 23,000 searches/month.
A little context about what the numbers mean.
The only columns you care about are highlighted.
DR
Backlinks
DR stands for Domain Rating, and is a proprietary metric that measures the strength of a domain based on the backlink profile.
YouTube, Facebook, Google, are all 100s.
The site you created yesterday is a 0.
It's not a metric Google uses, it's a metric created by ahrefs, the tool all of the screenshots you'll see are from.
Even though it's not used by Google, it's still a very useful metric to understand how powerful a given domain is.
Not only does Doggypedia's domain have the weakest backlink profile as indicated by the DR (domain rating) score, but of the 9 other pages, only 1 page has less backlinks.
And it's not just that keyword, it's hundreds of them – 504 position 1 keywords, and thousands of keywords on the 1st page.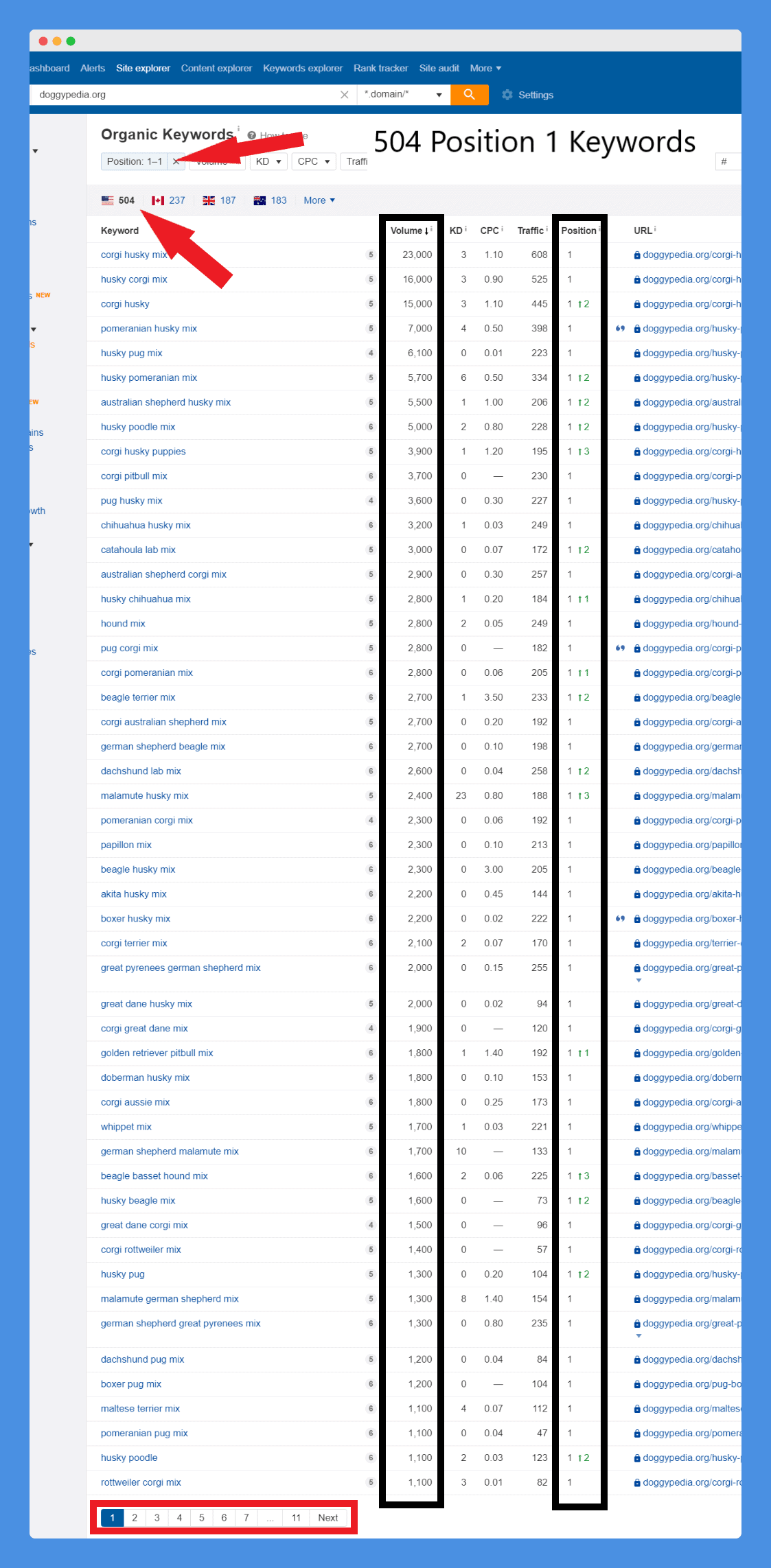 SEO Writing for E-Commerce
Hobanco is an outdoor e-commerce brand selling knives. We built and sold this website a few years ago.
Quick note: If you want to learn how to leverage sponsored YouTube videos as an acquisition channel for your e-commerce store, you need to read this post. If not, keep on reading.
When someone searches for [state knife laws], generally that searcher already owns a knife, or is looking to purchase a knife. And our research showed that people who buy knives to carry around have a lot of knives.
Of the 10 1st page search results, Hobanco has the second lowest DR, and the second lowest number of backlinks – yet it outranks pages on stronger domains with many more backlinks.
By the way, that featured snippet means we appear like this.
Well structured content gets you lots of featured snippets.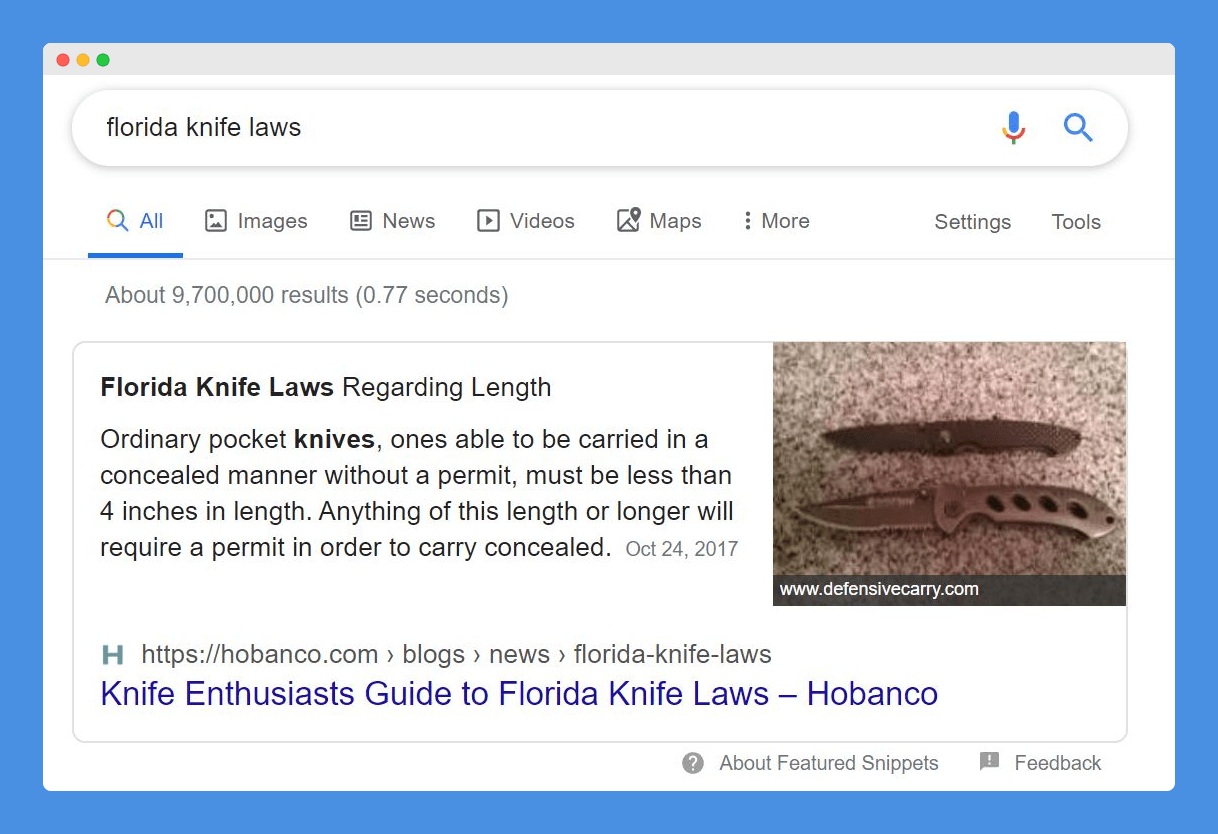 This site hasn't been touched since April 2018, and yet it grows month after month after month.
That's the power of great content.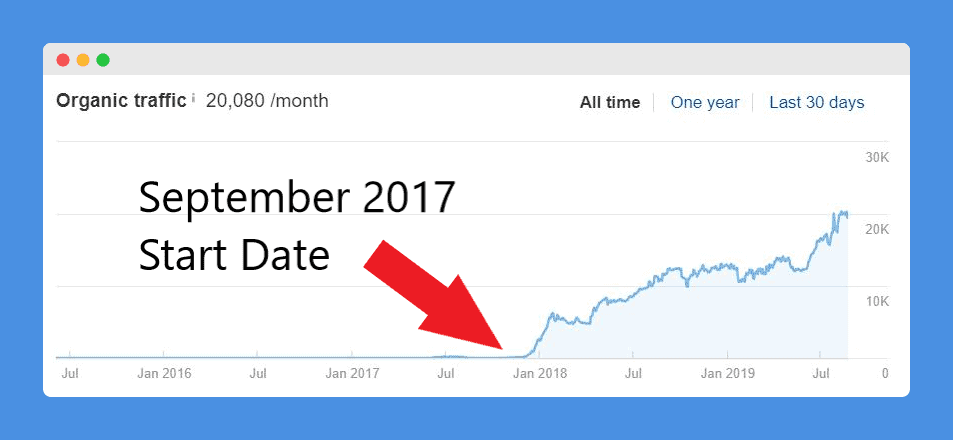 B2B SaaS SEO Content
BrandChamp.io helps e-commerce brands create and scale ambassador programs to thousands of participants.
It's a seriously awesome product, but was lacking awareness in the buyer's lifecycle.
And each customer is worth a minimum of $3,000 per year, and as high as tens of thousands per year.
This blog post alone might be worth $100,000.
But it's not alone.
Because the brands that are the most successful with search don't create one piece of content and hope it ranks, they create a piece of content for every opportunity across the buyers lifecycle.
And again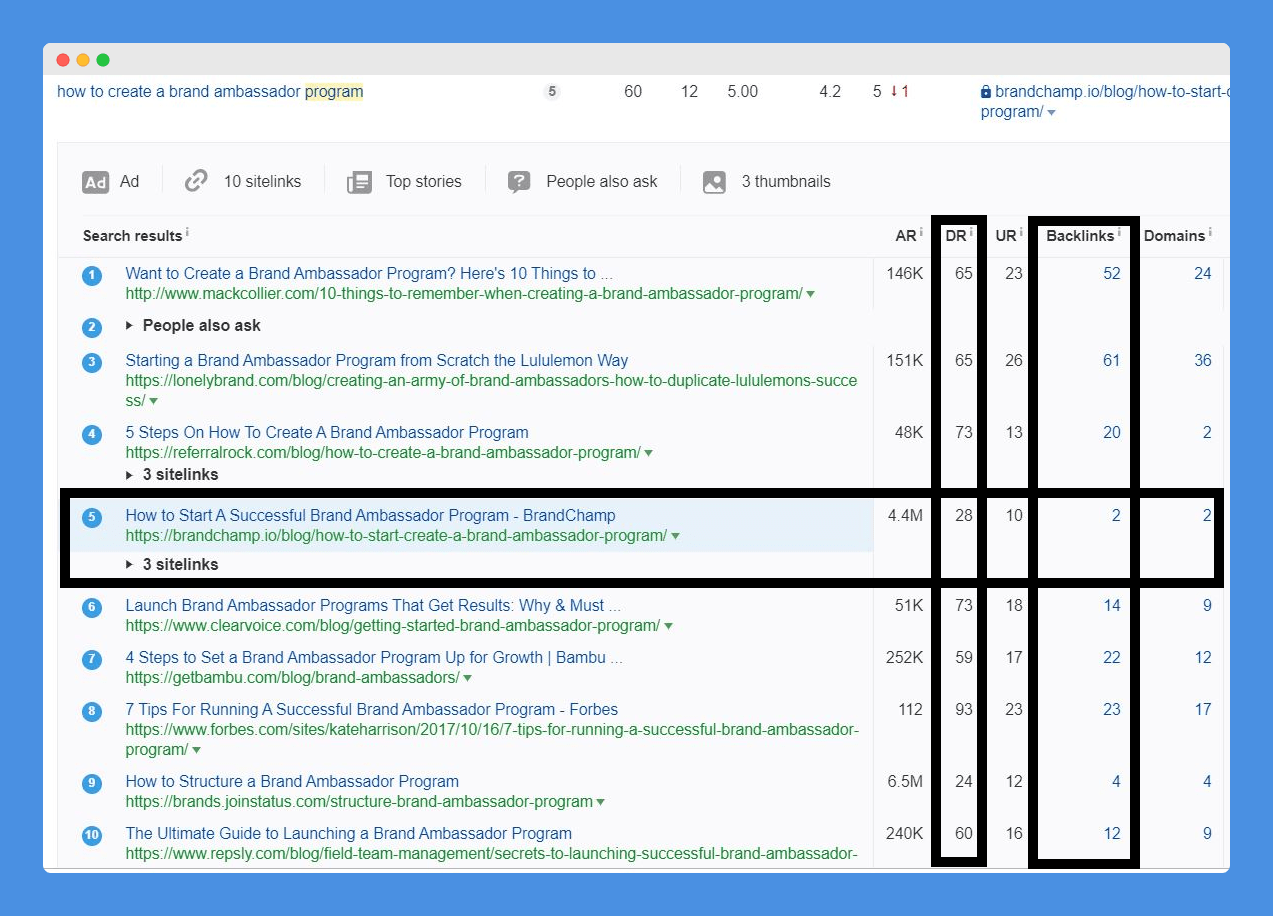 Writing SEO Content For Mobile Apps
DoNotPay is a San Francisco based startup backed by Peter Thiel that has created the world's first AI robot lawyer, and has helped over 200,000 people dispute and beat their parking tickets (plus a bunch of other cool things).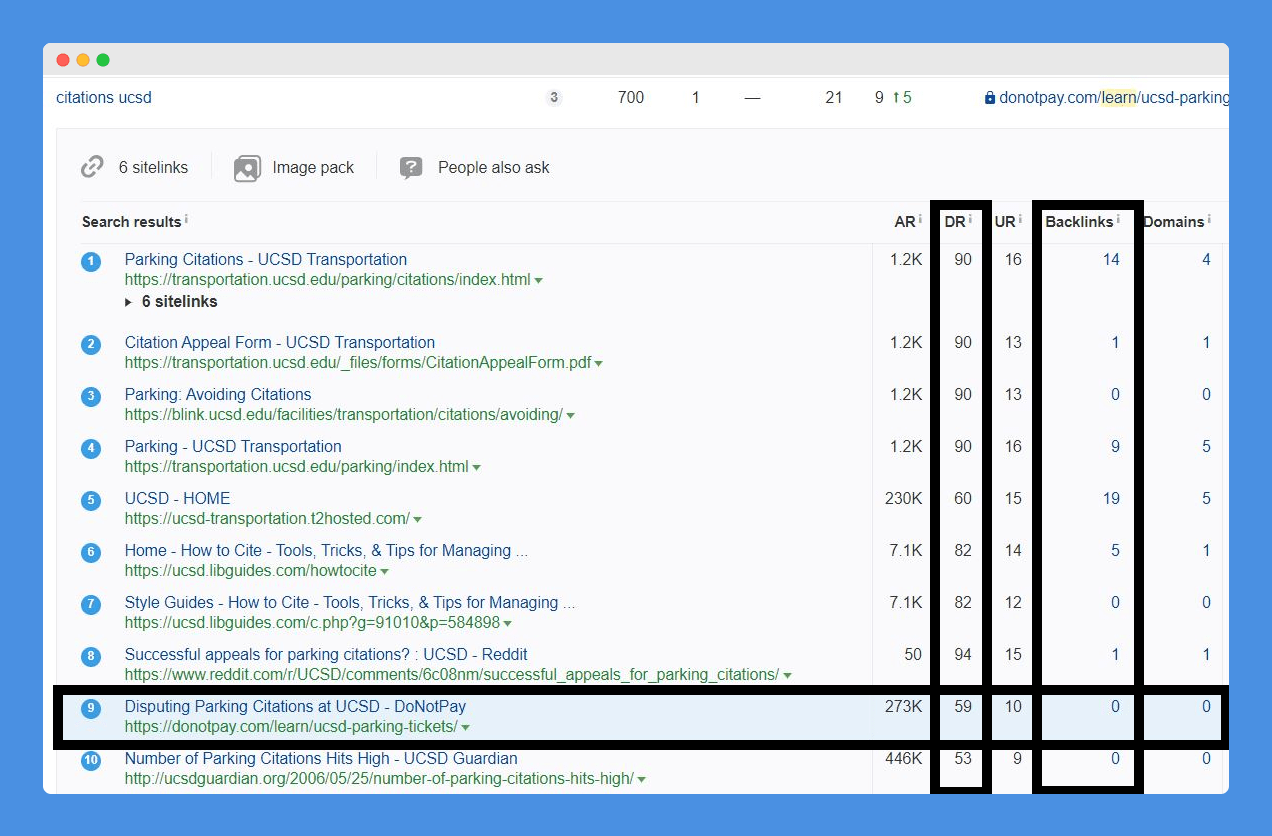 Remember what I said above how backlinks aren't necessary, they just help?
This content was published less than 30 days ago.
And DoNotPay has a lot of backlinks.
But the page about UCSD parking tickets has 0.
And in less than 30 days, aside from Reddit, the only pages ranking above it are from official pages on uscd.edu.
We're definitely going to beat Reddit.
And maybe we will outrank some of the UCSD pages.
Maybe we won't get to a top 3 positions.
But we're creating a page for over 100+ cities across the US.
So it doesn't matter.
When you create a lot of high quality content, you can stop paying attention to individual rankings and you can focus on:
Do we have more keywords on the 1st page this week than we did last week?
Did we have more organic search traffic this month than we did last month?
Hiring writers (that don't know SEO)
If you're like the businesses we work with, the core team is best equipped to create the highest quality content, and they have the least amount of time to write it.
Writing the type of content you need to rank isn't easy.
At a minimum, it's going to take a few hours.
And if you find the time to write one page here and there, you're not going to achieve the outcome you wanted from organic search.
So you need to hire writers to write your content for you.
Before we give you the template to turn any content writer into an SEO content writer, let's help you find awesome writers to work with.
Pay your writers per word, not hourly
Paying writers by the hour doesn't work.
They're not motivated to write.
It sucks to say, but it's true.
Every person I met who pays their writers hourly gets less content for the dollar than the writers I pay per word.
For most of the content we create, we pay our writers a minimum of 5 cents per word, but that can go as high as 10 cents per word for our enterprise SaaS projects that operate in highly technical industries.
You won't find the quality you're looking for, with the reliability you need for less than 5 cents per word.
Look for expats and nomads
We had a client recently hire a junior level writer for $6,000/month.
And she was producing a couple of blogs a week.
We thought it was crazy!
But she lived in one of the highest cost cities in the U.S.
And $6,000/month was actually below the poverty line for a household.
For $6,000/month we can get 40 long form articles per month from native English speaker living in Eastern Europe or Asia.
Here is a list of 10 expat Facebook groups to recruit writers from:
If you want to produce more than 8 pages a month, you need to hire multiple SEO content writers
We have yet to meet a writer who can produce enough content for one project.
We've tried it before.
They said they could produce 3,000 words per day and handle 20 blog posts a month.
They couldn't. Not even close.
Writer's brains began to fry – especially if it's about a subject they need to research.
When your writer doesn't deliver, they set you back.
Now you need to source, evaluate and test another writer.
Good freelance SEO writers have a lot of clients.
And they're not going to drop their reliable, consistent clients to write your content 'real quick'.
They're going to schedule you in.
So if you assign the content on a Monday, you should expect a full week to receive the first draft.
And another week after that for revisions on the feedback you provide.
If you're producing a lot of content, you can't risk your production schedule by giving a single writer too much work.
We hire enough writers for each project, where each writer only needs to write one article per week.
At most, two per week, and only if they've consistently met deadlines over the past several months.
Treat your SEO content writers like real people
Don't treat your content writers like VA, treat them like valued members of your core team.
Good content writers for 5 cents a word have a higher ROI than Google stock.
Creating a lot of good quality content is expensive.
And it takes time.
But it takes a lot more time if you can't retain your writers and need to spend more time than necessary sourcing, evaluating and testing new content writers.
According to Gordana, Content Distribution's Content Manager, who was a professional writer for 7 years before stepping into a content management role with us, the two most important things you can do to keep your writers happy are:
Pay them on-time, as in immediately after approving their final draft, or at a minimum pay them bi-weekly
Create outlines that help them understand exactly what you want to minimize revisions
There's just one more thing…..
Alright.
I know you had to read a lot to get to the thing you really wanted.
The template that turns any writer into a great SEO content writer.
But in order to help you use the template below as effectively as possible, you had to read everything above.
There's just one more thing.
And in order to see it, I want your email address.
Not because I'm going to spam you.
But because I need to teach you how to pick the right keywords, and how to integrate them into your content to be more relevant than your competitors.
And I haven't written this post yet.
It involves:
Keyword research
Picking the core keyword you want to rank for, and the variations that you also want to rank for
This exact template we used for Soxy. The article that this writer wrote ranked 1st page 48 hours after going live.
The process that has:
Helped us produce hundreds of pages from dozens of writers that don't know SEO
Rank for over 45,000+ 1st page keywords
Generate millions of views
So drop your email below, and you'll not only receive our process documents on turning any writer into an SEO content writer, but you'll also get our process to make data driven keyword decisions when it's ready.
If you can't wait, and you're eager to start implementing right now.
Drop your email above.
Watch the video below to see how I outranked Shopify and Instagram for their own brand for my former employer just by creating more relevant, higher quality content.
Then use ahrefs keyword research process until you receive my data driven keyword research process via email.