6 Best SaaS Consultants To Skyrocket Your Business
SaaS companies are expected to generate $623 billion by 2023.
This business model is quickly taking over the world, but there's a catch.
Most SaaS businesses fail.
Building your product and proudly launching it just isn't enough.
You may consider your solution revolutionary, but with a little market research…
I bet you'll be able to find a few competitors in any niche.
Even if you don't have any—don't worry—you will.
When we created our SaaS tool—ClusterAi—there were barely any signs of similar tools on the market.
Just a few weeks after the launch, we've learned about at least 3–5 of them.
That being said, competitors won't even be your biggest issue. Your SaaS business will face countless challenges—from high user acquisition costs to low retention rates.
Luckily, for each problem you face, there's a solution.
SaaS consultants can help you find those.
6 Best SaaS Consultants for Your Business
Finding the best SaaS consultants isn't easy. You need to find people that have battle-tested skills and a few tricks ready for each problem you face.
The SaaS industry really became present in the market only after 2010.
That means there aren't that many SaaS consultants out there. Finding the ones with proper experience, the ones that actually built businesses and got results is even harder.
Our list includes the people whose expertise can be confirmed with outstanding results. We picked them based on:
Proven track record

SaaS-specific experience

Growth marketing expertise
#1 Nick Jordan
Starting off with our guy from Content Distribution seems biased? Wrong.
Nick Jordan has an impressive track record that only a few can match.
His juiciest case study?
Taking DoNotPay from 0 to 479,000 monthly organic visits in less than 17 months.

This graph keeps growing daily, and by the time you read this article, it will already be out of date.
If you check out this graph in Ahrefs, let us know how outdated our screenshot is!
He achieved this immense growth with publishing velocity—this simple philosophy never failed us.
This project required no link building. No technical BS. Even the keyword research was automated with ClusterAi to prevent any human errors + save us a ton of time.
The same approach yielded amazing results on multiple different projects. He repeatedly went from:
0 to 47,000 organics/month in 13 months for AnyLeads.com

0 to 103,000 organics/month in 13 months for LogicInbound.com

0 to 116,000 organics/month in 13 months for Doggypedia.org

0 to 166,000 organics/month in 13 months for CampusReel.org
This kind of consistency is what you're looking for in your consultant.
The best SaaS consultants have that in common. They can replicate their previous successes for your business. You don't want someone trying out their new ideas on your product.
#2 Nick & Noel
Nick Zviadadze & Noel Ceta run their full-stack SaaS marketing agency—Apollo Digital.
Together, they've managed to skyrocket their clients' SaaS businesses.
Plus, they have a nice graph to prove it.
They grew a BPM SaaS from 0 to 194,000 monthly organic visits.

Here are some of their other clients:
Novoresume

Blissfully

Deskera Books
#3 Josh Fechter
As you might have noticed, I just love a good case study.
If you love them too, check out Josh's website.
As soon as you visit it, you'll see these: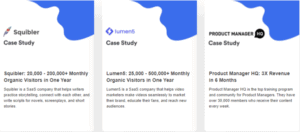 Lovely, isn't it?
It gets even better.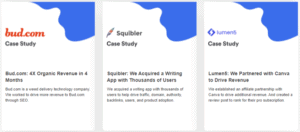 Josh Fechter, looks like you've been busy. Good job, man.
With his SaaS business—Squibler—he got some impressive results.
In just a year, the team has created a product that acquires +4,500 new users every single month.
Driving +150,000 monthly organic visits definitely helped get there.
#4 Alejandro Rioja
Alejandro is a serial entrepreneur with a good stack of business successes.
There's a discussion among marketers—if marketers can't market themselves, how can you know they'll be able to help you?
With Alejandro, there's no need to ask this question.
His personal blog receives 600k visitors per month!

This is huge on its own, but there's more.
He took his e-commerce business, Flux Chargers, to $100,000 in monthly sales.
Alejandro also manages a huge publishing network that he built from scratch.
When he's not helping SaaS businesses achieve similar goals, he also loves to rap. Would that be a deal-maker or a deal-breaker to you?
#5 Steve Toth
If you haven't heard of Steve Toth, you probably haven't heard of SEO.
Steve is the man behind SEO Notebook—probably the finest library of SEO knowledge.
Every week, he shares the best actionable insights out there.
He's known in the SEO world for his gigantic success with FreshBooks.
At the moment, FreshBooks receives 1MM monthly organic visits.

Crazy, right?
These are not random, unqualified visits that will never convert. These are all visits coming from 300,000 money keyword queries that he ranks #1 for.
He works with SaaS companies like Mejuri and Ownr, but also other huge brands, such as:
Toyota

Intercom

Porter Airlines

KPMG

EMI
#6 Benjamin Golden
Sometimes it's the details that get in the way of your success.
Well, at least you consider them details.
When you hire a good SaaS consultant, they will notice these details. And they will fix them.
Benjamin Golden is that kind of person.
His GoldenWeb agency focuses on fixing technical SEO issues.
When you're building your SaaS business, it's fun to implement new strategies like advertising on a new channel, building new product features, or launching a new email sequence.
Focusing too much on this will make you forget that, sometimes, all you have to do is fix what you already have.
That's exactly what Benjamin does for his clients.
Once he audited his client's website and fixed technical SEO issues, the traffic skyrocketed.
Traffic increased by 70% just 45 days after audit fixes.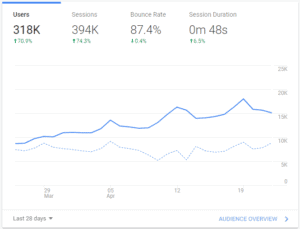 Next time you're facing challenges, think about fixing what you already have.
What Can You Get From a SaaS Consultant?
Your SaaS consultant can usually help with two key points:
#1 Creating demand. This means:
Driving organic traffic to your website

Running paid ad campaigns

Improving your existing paid campaigns and SEO efforts
#2 Improving the product itself.
Increasing retention rates

Decreasing churn rate

Improving free trial to paid conversion rates

Finding the right pricing model
Some consultants specialize in one or the other, while others can help with both.
Overall, you're looking for a SaaS veteran. Fixing problems even before they appear is possible, but not without the right kind of experience.
Best SaaS consultants, like the ones on this list, can prevent and solve a lot of your problems because they've been there, done that.
Many SaaS businesses face the same problems due to the business model they share.
It's usually one of these:
Low free trial to paid conversion rate

High cost per acquisition

High churn rate
With a consultant that has faced and overcome these obstacles hundreds of times, you'll immediately have a few solutions to implement.
Choose wisely.